Description
A huge range of tones from Hot Bonamassa Blues, Classic Crunch, Anthem Rock and Saturated Slash inspired solos can be dialled in with the Rock Box Distortion's™ easy to use controls. Its unique all analogue point to point wired circuit offers exceptional transparency allow your own signature tone to shine through.
One of the Rock Box Distortion's™ unique features is its Integrated Boost circuit, to allow the pedal to be used as a complete system as opposed to two separate pedals in one box. The boost and overdrive circuits complement each other and work together allowing easy, intuitive operation and setup.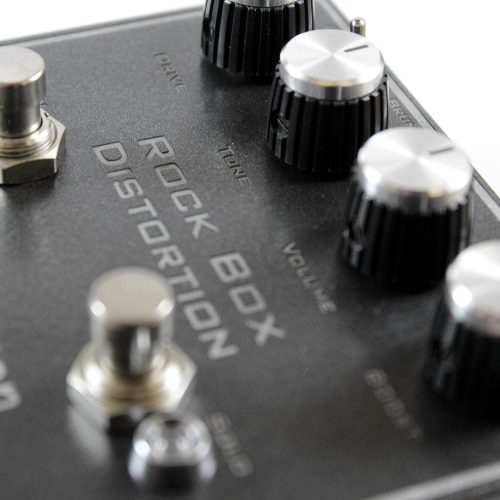 Features :
Full handmade point to point wired all analogue circuitry

Flexible design offering many tone configurations

Truly hand crafted one at a time.

Versatile design with intuitive controls

Quality components used throughout

True Bypass switching

Standard 3 Year warranty (conditions apply)
McPherson Stompboxes are handcrafted to the highest standard in New Zealand
International orders must be paid via Paypal
This unit must only be powered by a regulated 9v negative centre (Boss Style) power supply (not included). These units do not take batteries.
Sound Samples
Please remember, these demos are only a tonal snapshot. Subtle detail of how the pedal reacts and interacts with your playing is really what makes the Rock Box Distortion™ special.
The left footswitch engages the pedal, while the right footswitch engages our ultra transparent boost circuit. This unique circuit does not affect your tone when engaged, and provides an actual output volume (not gain) boost with more than enough power to cut thru the loudest mix. The overall output of the boost is set by the boost knob.
In addition to this, when the boost is engaged, the front panel drive control is turned off and the rear panel boost drive control is simultaneously turned on. This means you can have a completely independent drive setting for the boost, letting you have more (or less) drive saturation when the boost is engaged.
The upper left switch selects between two individually voiced channels, Blonde and Brunette
The Blonde channel is voiced for a clearer more detailed tone with a bump up in the gain department, while the Brunette channel achieves a warmer tone with less drive saturation.
Dirty Demo
Rock Box Distortion (older version) : Cosmetically different with the same core tone as the current version.
McPherson Stompboxes are handcrafted to the highest standard in New Zealand.